ADP Workforce Now® is software for midsize companies with 50 to 999 employees. This SaaS (Software as a Service) product aims to help you grow your business by automating routine tasks and providing analytical tools to better manage your company's human resources. ADP describes the product as a comprehensive human capital management (HCM) solution rather than just an HR tool.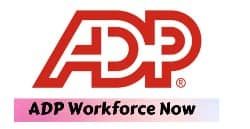 Employees can help themselves with this ADP Workforce Now payroll solution; They can access their benefits and pay, view information about working hours and hours, request time off, and set direct deposit preferences. ADP Workforce Now provides data analysis tools to help users understand the performance of their critical metrics such as labor cost, turnover, and overtime. Furthermore, this cloud-based payroll software offers a mobile app that users can access on their Android and iOS devices.
Benefits Offered By Workforce Now ADP
The software simplifies payroll and tax filing. The service helps to reduce the administrative burden and errors caused by the service's real-time payment receipts. If you need help or want to talk to someone for peace of mind, you can access ADP's dedicated team of experts.
Transform HR from a management role into a strategic asset with powerful tools such as the global HR record system and custom record keeping.
The database makes updating records easy. Time tracking and reporting are automated through ADP Workforce Now, which provides employees with self-service access. It is compatible with the latest technologies, including biometric clocks and internet-connected devices.
Better performance management. The service automates due benefits administration processes and provides tools to monitor critical factors such as COBRA and ACA compliance.
With these benefits, you might think ADP Workforce Now is a vast and complex system beyond your needs. However, its main components can be broadly divided into several groups. That way, you can only select the features your business needs.
The essential components of ADP Workforce Now are:
Wages and taxes
Human Resource Management
Time and work
Benefits and ACA
Employee self-service for open enrollment and life events
Audit
The ability to buy carrier connections